Good morning fellow crafters
Welcome to our new challenge for
December
not long now till Santa makes his visit & brings you lots of crafting goodies
.
A very warm welcome to all our new followers great to have you on board.
Thank you to all those who joined in with last months challenge
* Contemporary Colour Combo *
gorgeous creations were made as always
Please check out our winners post below
.
Before we go onto our new challenge please give a warm welcome to our new team mate Susie from
Susies Craft Creations
i'm sure Susie will be a great asset to the team
Our new challenge for this month is
* Button or Bow
*
The theme is really simple this month we just want to see a button or a bow or both if you want & as always don't forget your project must be for Christmas & can be cards, tags, bookmarks, scrap layouts or anything you like as we are a multi crafts blog.
Our fab sponsors for this month are of course our regular monthly sponsor
Joanna Sheen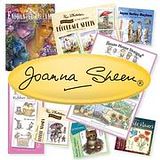 With a prize of a £10.00 voucher for 1 lucky winner
Before we go onto showing you what the DT have created this month, myself and all the team just want to take this opportunity to thank all our fab sponsors over the last 12 months for their generosity and to wish all our sponsors, team members & all those of you that have joined in with us & supported us throughout the year a very
* HAPPY CHRISTMAS & NEW YEAR *
Here are what the team have created for some inspiration
DEBS
SANDRA
JACKIE
MEL
SHELL
JO
SHAZ
LESLEY
DEBBIE
HAZEL
Stunning creations as always Ladies x
Well that's it for this month & for 2012
Please pop back
December 31st
to see who our lucky winners and top 3 are
We hope 2013 will bring you joy, happiness, good health & lots of crafting time.
To join in please read the rules in pages at top then leave your link to your post with the little blue
frog
we can then pop along and see what you have created.
Hugs