" HAPPY NEW YEAR EVERYONE "
We hope you have all had a good Christmas and that 2013 will be good to you all
Welcome to our 1st challenge of
2013
it seems strange to be making Christmas cards so soon after Christmas but just think that at the end of the year you will be well ahead of making all those cards you need especially if you make the maximum allowed each month of 3 that will be 36 cards made, so lets get started.
Our theme for you this month has been chosen by
Shell
who wants to see
Snowmen
on your work and of course as we are a multi craft challenge blog you can make whatever you like so long as you make sure you are completing the theme each month
Our sponsor for this month is the fab Di's Digi's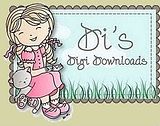 With a prize of $10 to spend online
Here are what the team have created for some inspiration
SHELL
JACKIE
SANDRA
HAZEL
SHAZ
LESLEY
DEBBIE
JO
DEBS
SUSIE
MEL
Stunning creations as always Ladies x
Well that's it for this month
Please pop back
January
31st
to see who our lucky winner & top 3 is.
To join in please read the rules in pages at top then
leave your link to your post
with the little blue
frog
we can then pop along and see what you have created.
Hugs